4 Great Dinner Cruises in Myrtle Beach
Are you ready to make lifelong memories and try something new on your Myrtle Beach getaway? Consider booking a dinner cruise! As hard as it may be to leave the comfort of your room or suite at the
Crown Reef Beach Resort & Waterpark,
it's worth it for an evening on the water.
There are many options for cruises in the Myrtle Beach area; from private luxury to a happy hour party, these are the best dinner cruises around Myrtle Beach.
About Myrtle Beach Dinner Cruises
There is no shortage of fun and memorable activities along South Carolina's Grand Strand, and anyone staying at Crown Reef Resort has a wealth of opportunities at their doorstep. Whether you want to go on a peaceful hike at
Myrtle Beach State Park
or have an afternoon of excitement at the resort waterpark, there is plenty to fill your vacation days.
Myrtle Beach offers plenty to choose from when dinner comes around, but If you want to try something different, these local dinner cruises are the perfect option. From family-friendly sailings to happy hour excursions and even private luxury charters, there is a boat for all occasions. These are perfect for a romantic date night, exciting family outings, or special events like family reunions, birthday parties, or bachelorette parties.
Barefoot Queen Riverboat Cruises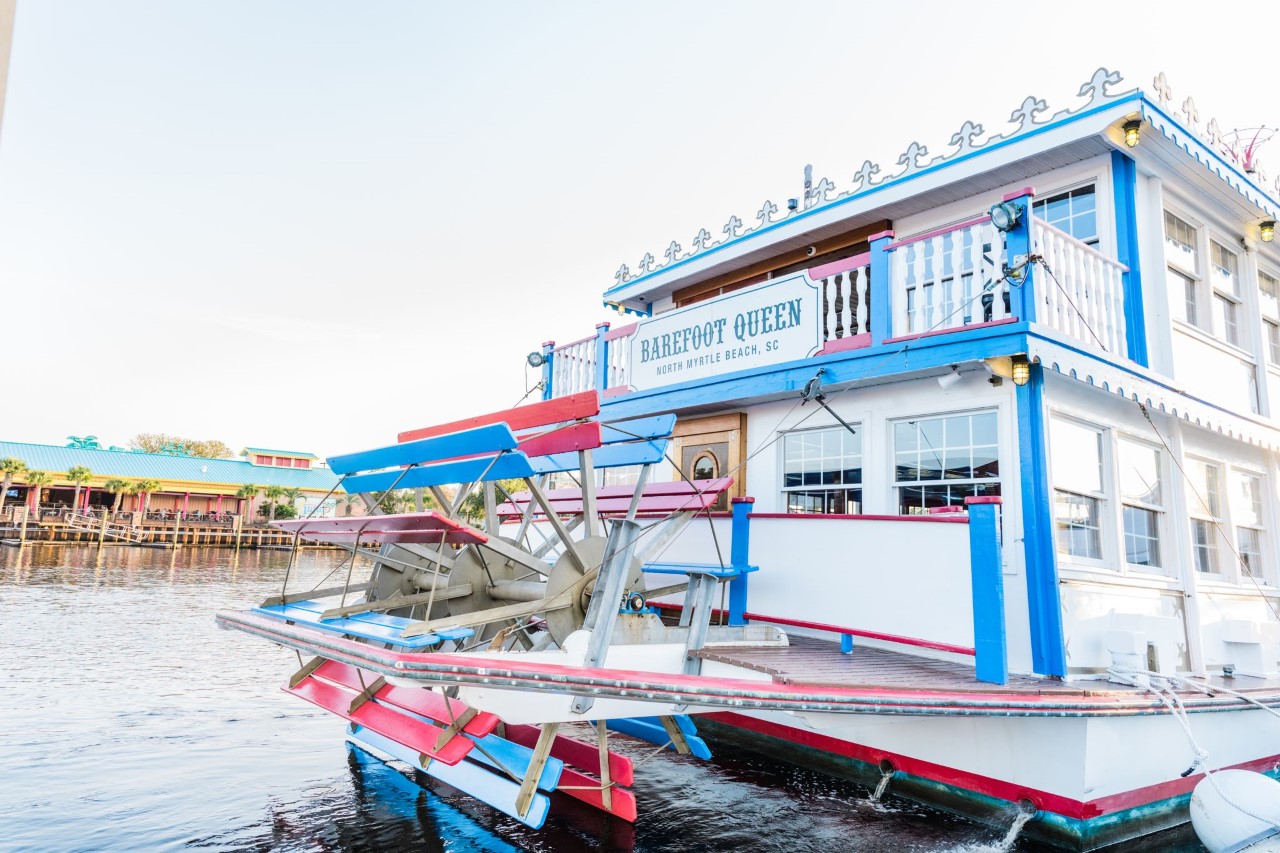 Photo Credit: Barefoot Queen


Address:

2051 Bridge View Ct, North Myrtle Beach, SC



Best for:

Families, couples, and events.



Price point:

$$



The
Barefoot Queen Riverboat Cruises
offers a wide variety of cruise options, including lunch and dinner cruises, special holiday-themed cruises, and private cruises for personal or business events. This is a wonderful way to spend an evening seeing the beauty of Myrtle Beach from a new perspective.
The Barefoot Queen is a wonderful option for those seeking a great meal with great views. Lunch includes a sandwich, chips, cookie, and water/tea. Your dinner includes a salad, entrees with meat and vegetables, dessert, and water/tea. They have a fully stocked cash bar with a stocked snack bar and alcoholic beverages available for purchase.
Departure days and times for this authentic wooden riverboat cruise depend on the season. In the summer, from May 28 to August 31, the 1.5-hour lunch cruises are available on Tuesday to Thursday and Saturday and depart at noon. The 2-hour dinner cruises run Monday through Saturday and depart at 5:30 PM.
Special holiday cruises, such as the Halloween Lunch Cruise, a Christmas Regatta, the North Pole Express Cruise, the 4th of July Cruise, the New Year's Eve Fireworks Cruise, and the romantic Valentine's Day Cruise, are also available.
The Big "M" Casino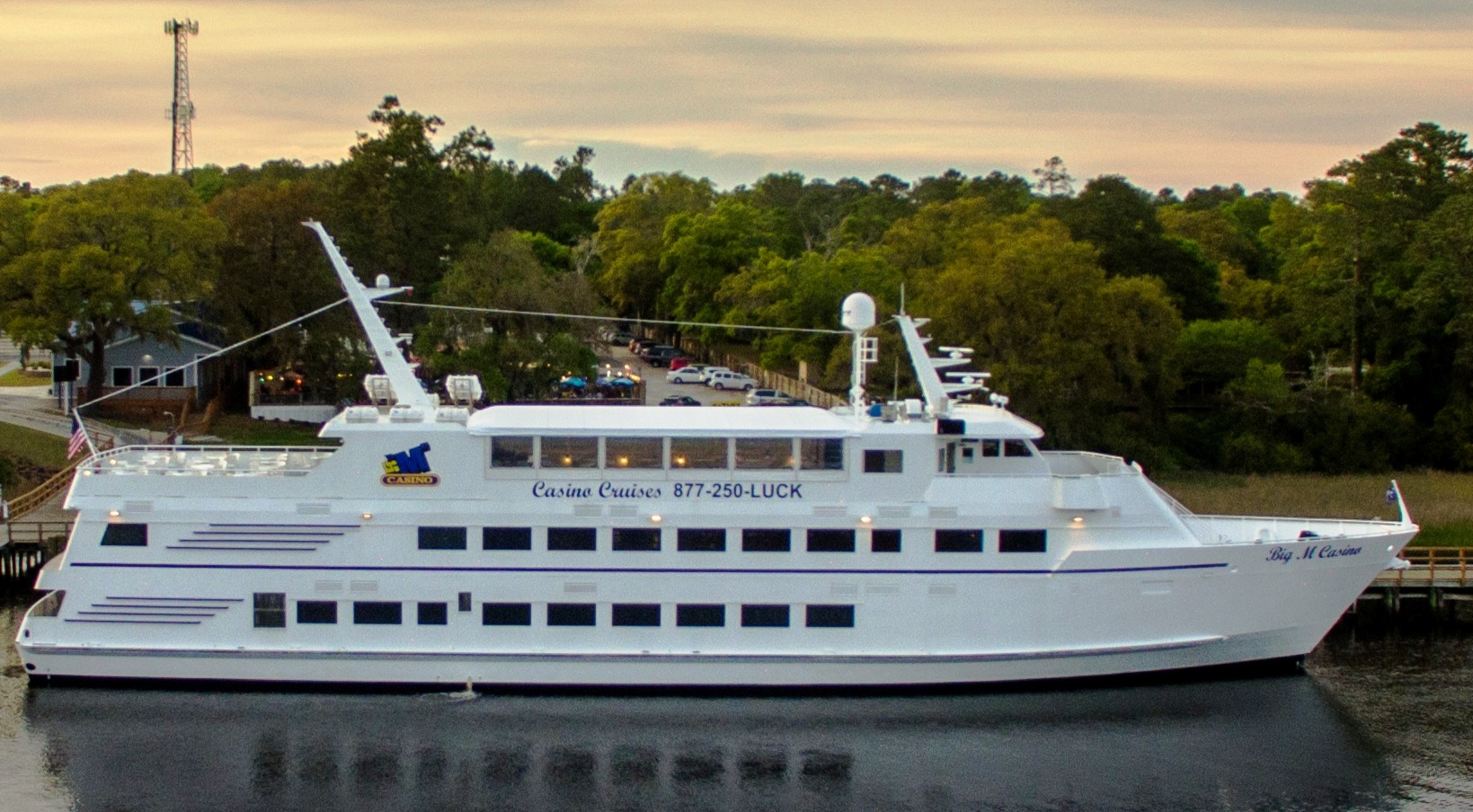 Photo Credit: Photo Credit: The Big "M" Casino


Address:

4491 Mineola Avenue, Little River, SC



Best for:

Couples and groups.



Price point:

$



Slightly different from a traditional dinner cruise, the Big "M" Casino Boat is perfect for those looking to have a memorable experience in Myrtle Beach. The casino boat departs from Little River and makes its way down the Intracoastal Waterway before taking passengers to international waters, where gambling is legal.
Try your hand at classic games like blackjack, poker, and roulette, or have fun on the slot machines. In addition to the numerous fun games, food and drinks are available for purchase on board. Big "M" Casino offers subs, wraps, pizza, hot dogs, soup, and a full bar with beer, wine, and liquor, all accompanied by beautiful views.
Day cruises run Tuesday through Sunday from 11 AM to 4 PM. Evening cruises run Thursday through Sunday from 6 PM to 11 PM. All Big "M" Casino boat passengers must be 21 or older, and a valid ID is required to board. Onboard games are cash only, and an ATM is available once you board.
Enchanted Sailing Charters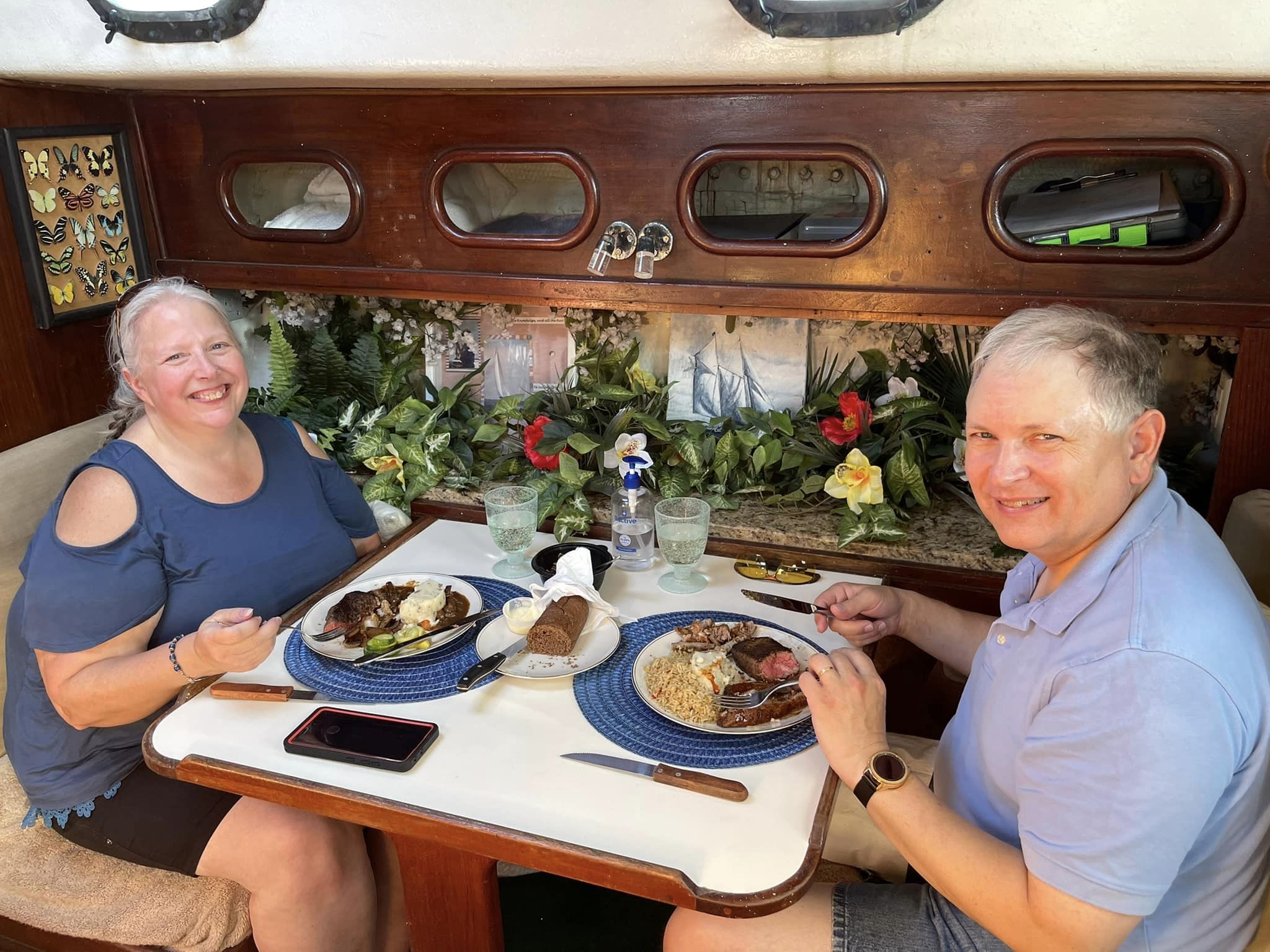 Photo Credit: Enchanted Sailing Charters


Address:

Cricket Cove Marina Dock "B" 4495 Baker Street, Little River SC



Best for:

Couples, families, private group tours.



Price point:

$$$$



For a special, luxury dinner cruise, consider a private sightseeing cruise with
Enchanted Sailing Charters
. This is a fantastic option for families looking for a full day of fresh air sightseeing or for couples seeking a quiet, romantic dinner. Opting for a private charter boat is a wonderful way to escape the hustle and bustle and simply enjoy the beauty of Myrtle Beach with your loved ones.
Enchanted Sailing offers multiple options for your charter. Possibly their most popular offering is their romantic sunset dinner cruise. This 3-hour experience includes a catered meal for two and is a truly unforgettable way to watch the sunset while dining with your loved one. They also offer a special engagement cruise, perfect for those looking for a unique and unforgettable way to propose to their partner.
Another popular experience is their full-day sailing, during which your group starts the boat tour anchored near the peaceful Bird Island to swim, explore, and eat lunch before heading out onto the Atlantic Ocean for an afternoon of sailing.
Contact Enchanted Sailing Charters to organize the excursion of your dreams. They are willing to work with you to create a unique, unforgettable day at sea during your Myrtle Beach getaway.
Pie-Eyed Parrot Happy Hour Cruise
Photo Credit: pieeyedparrot


Address:

4097 US-17 BUS, Murrells Inlet, SC



Best for:

Couples, friends, groups, solo travelers



Price point:

$



Prepare to party when you book the
Pie-Eyed Parrot Sunset Happy Hour Cruise
! This is a guaranteed good time and perfect for those seeking a unique and fun experience in Myrtle Beach.
On this scenic cocktail cruise, you will enjoy a 1.5-hour sail through Murrell's Inlet marshlands while sipping cold drinks and listening to music. A fully stocked bar on board offers beer, wine, liquor, mixed drinks, and a handful of excellent appetizers.
After enjoying the stunning sunset and probably a few drinks, you will return to the dock for the 1.5-hour dockside party. This is the perfect time for dancing, mingling, and enjoying a few more tasty beverages. If you want to keep the party going, check out some of the
best bars in Myrtle Beach
!
In addition to their popular sunset happy hour cruise, the Pie-Eyed Parrot offers special holiday cruises, like their 4th of July party and private event cruises. Contact the Pie-Eyed Parrot about renting out the whole boat for your next party, family reunion, business event, wedding, or birthday celebration.
Dine on the Water in Myrtle Beach
Don't miss a unique, unforgettable evening on your upcoming Myrtle Beach vacation. A dinner cruise is an amazing way to see Myrtle Beach and spend time with your loved ones on the water.
After booking your room or suite at
Crown Reef Beach Resort & Waterpark,
secure your spot on one of the fantastic cruises in the Myrtle Beach area and prepare for the experience of a lifetime!