Myrtle Beach State Park: A Visitor's Guide
Nestled along South Carolina's sunny coastline, the oceanfront Myrtle Beach State Park offers a treasure trove of natural beauty.
The Myrtle Beach area can get quite busy in the summer, and if you're looking to escape the crowds, this protected green space offers the perfect oasis to enjoy the beautiful coastline and maritime forest in a tranquil setting.
If you're looking for a natural adventure on a day out from a
Crown Reef Resort and Waterpark
stay, look no further. With its breathtaking views and endless possibilities for outdoor adventure, Myrtle Beach State Park is the perfect escape for nature lovers and adventure seekers alike.
About Myrtle Beach State Park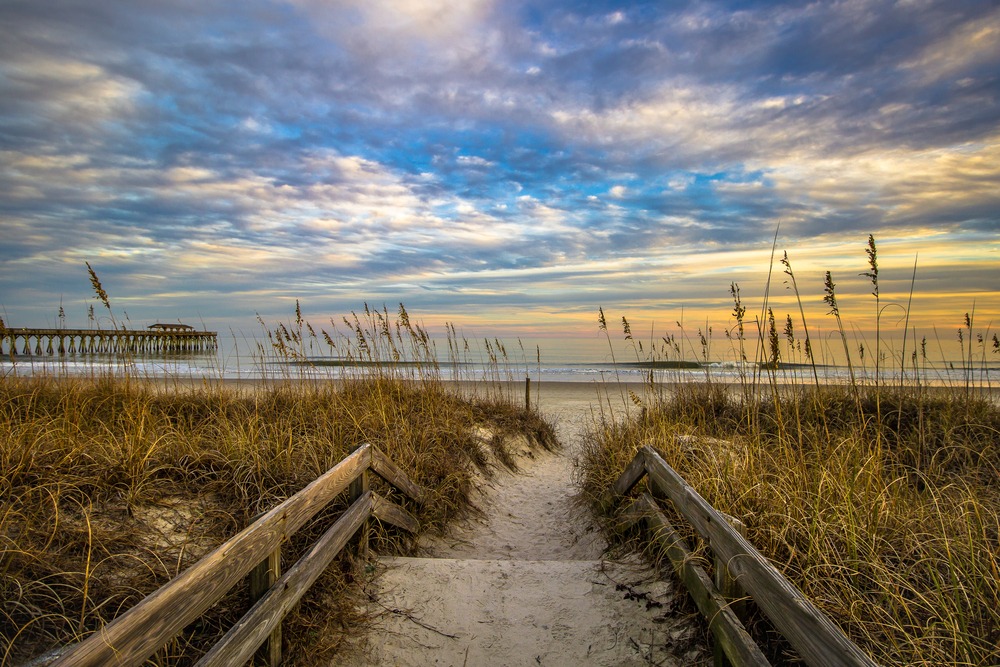 Photo Credit:
Chuck Lawhon


Location: 4401 S Kings Hwy, Myrtle Beach, SC


Hours: The park is open from 6 AM to 10 PM March through November and from 6 AM to 8 PM December through February.


Admission: $8 for adults, $5 for adults 65 and over, $4 for kids ages 6 to 15, and free for kids 5 and under.


Myrtle Beach State Park spans 312 acres and offers some fantastic opportunities for outdoor recreation. This state park is known for its serene beaches, picturesque fishing pier, and abundant wildlife. What makes this park truly special is its well-preserved maritime forest, teeming with unique plant species and diverse animal life. Stroll along the nature trails and you may spot colorful woodpeckers, and majestic white-tailed deer.
The park also has plenty of amenities, including parking, public restrooms, outdoor showers, changing facilities, a tackle shop on the pier, and a convenience store/gift shop.
Getting There
Located at 4401 South Kings HWY in Myrtle Beach, the park is easily accessible from US Highway 17. There's plenty of parking available, and guests at Crown Reef Resort can take advantage of a short, 5-minute drive to the park.
The Best Time to Visit Myrtle Beach State Park
Myrtle Beach State Park is a year-round destination, and each season has something unique in store for visitors. The Grand Strand can get pretty crowded, in the peak summer months, and sometimes it's nice to have a little escape into nature.
In the spring, wildflowers bloom along the trails of the park, and flocks of migratory birds can be spotted. Summers are perfect for beach activities and swimming in the warm ocean.
Fall offers comfortable temperatures perfect for outdoor recreation and lovely foliage.
Winter is cooler, but it's also the least crowded time of year in Myrtle Beach, so you might even have the park to yourself sometimes!
What to Do and See in Myrtle Beach State Park
Explore the Hiking Trails
Photo Credit:
Tony Gatlin
If you want to explore Myrtle Beach State Park, the best way is to do the 2.5-mile
Yaupon, Sculptured Oak, and Pond Trail
. This easy hike combines the three nature trails and takes about 45 minutes to complete. The terrain is easy, consisting mostly of well-maintained trails and boardwalks.
It's perfect for birding, hiking, and jogging, and a great place to spot wildlife, like birds and squirrels, and spot some magnificent trees.
If you're short on time, or have little ones better suited to a backseat, biking is allowed in the park as well!
Pack a Picnic
Photo Credit:
MagsTravels via Flickr CC2.0
Myrtle Beach State Park has seven different picnic shelters in beautiful shaded areas surrounded by trees- they're perfect for a family cookout or get-together! The picnic shelters and their picnic tables are reservable, so if you want to snag one of the picnic areas for your group, be sure to call the State Park to reserve a shelter.
Take a Dip in Ocean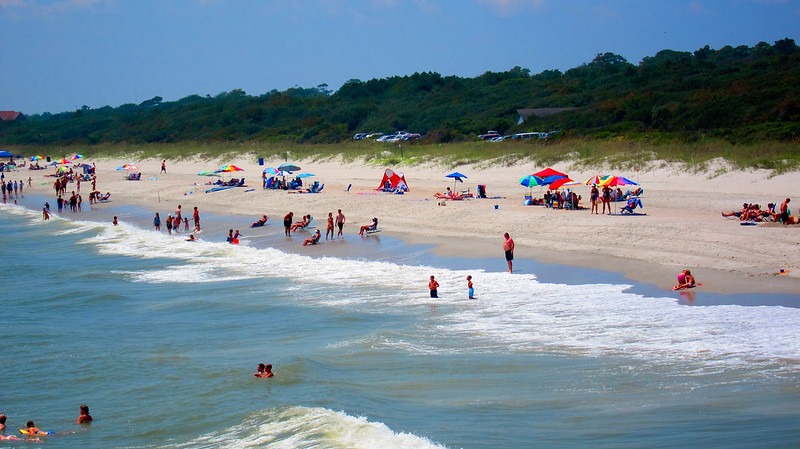 Photo Credit:
Perry Quan
via Flickr CC2.0
Myrtle Beach State Park has its own slice of beach access, and the beach here is perfect for swimming. During the summer, the area just north of the pier has lifeguards on duty making it a relatively safe location for families.
While you're swimming, be sure to keep an eye out for dolphins and sea turtles, which are commonly spotted in the area.
Go for a Walk on the Pier
Photo Credit:
Dave Slusher via Flickr CC2.0
If you want to enjoy some beautiful viewpoints, you'll love Myrtle Beach State Park. The park's fishing pier extends out over the ocean, offering gorgeous ocean views. This spot also makes for great people and wildlife watching!
Go Horseback Riding on the Beach
Photo Credit: grandstrandhorsebackriding
During the off-season, from the third Saturday in November through February 28, horseback riding is allowed on the beach. Keep in mind a permit is required for each horse that enters the park. Contact
Grand Strand Horseback Riding
for more information.
The best resource for checking park regulations on horseback riding is the
South Carolina State Parks
website.
Fishing
Photo Credit:
Ken Schulze
Myrtle Beach State Park offers prime surf fishing and pier fishing opportunities. Its fishing pier extends nearly 300 feet into the Atlantic Ocean, and provides an ideal spot for reeling in a variety of fish species, such as flounder, king mackerel, and whiting.
If you don't have your fishing gear, don't worry. The Myrtle Beach State Park Fishing Pier has an affordable tackle shop where you can rent equipment and buy bait. Remember you will need a valid
South Carolina fishing license
to cast from the beach.
Visit the Nature Center
The
Nature Center
is the place to learn all about the park's biodiversity initiatives. The center features a variety of exhibits displaying local wildlife, marine life, and plants, many of which are hands-on, allowing you to experience the local ecosystem first-hand.
Be sure to check out the saltwater aquariums and live reptiles in the center while you're at it! The Nature Center also hosts various educational programs led by the park's knowledgeable naturalists. These programs offer unique insights into the park's ecosystem and include beach walks, seashell identification sessions, bird-watching tours, and interactive talks about the area's diverse wildlife.
Where to Eat and Drink Near the Park
Photo Credit:
Shebeko
Besides the convenience store located within Myrtle Beach State Park, there aren't any restaurants within the park. However, there are several places to eat and drink nearby.
Just south of the park, you can enjoy seafood at
Lobster House Seafood Restaurant
or Manny's Deli for delicious subs- perfect for ordering to go and enjoying on the beach!
North of the park, you can head to
Damon's
for casual pub fare and ribs or head just a few minutes inland to grab delicious Italian pizzas, subs, and baked goods from
Toffino's
.
Tips for First-Time Visitors to the Park
Arrive early
During the summer, Myrtle Beach State Park often reaches full capacity. It's a good idea to get there early to ensure you get a parking spot and access to the park as there is a cap on visitors.
Pack appropriately
If you plan on enjoying the beach be sure to pack swimsuits, towels, and plenty of sunscreen. If you're planning on enjoying the trails, we recommend bringing some bug spray to keep the flies and mosquitoes away.
Check the weather
While Myrtle Beach State Park is beautiful all year long, it can get a little muddy right after rain. We recommend checking the weather before your visit to ensure you have the best experience.
Enjoy Your Time at Myrtle Beach State Park
No matter what you decide to do at Myrtle Beach State Park, you're sure to enjoy the beauty of the park.
Myrtle Beach State Park is just a short drive from
Crown Reef Beach Resort and Waterpark
. It's the addition to your itinerary if you're looking for a peaceful escape into nature during your trip to Myrtle Beach.