8 Best Bars in Myrtle Beach
Ready to clock out and enjoy the unending happy hour of Myrtle Beach? This South Carolina town has a vibrant bar scene to accompany the sandy shores and stunning ocean views that will greet you at the
Crown Reef Beach Resort and Waterpark
.
From the local bars that line the Myrtle Beach Boardwalk to those laid-back tiki spots where every sip feels like a mini-vacation, you'll find no shortage of cocktails and craft brews to choose from. Here are eight of the most worthy places to saddle up to the bar in this Grand Strand gem of a town!
Bumstead's Pub
Photo Credit:
clips


Address:

400 Mr. Joe White Ave, Myrtle Beach, SC



Try This Menu Favorite:

A tall Guinness



Website:

bumsteadspub.com



Our favorite dive bar (or as close as you'll get to one) in Myrtle Beach is easily Bumstead's Pub. As they say, it's a "touch of Europe at the beach." And, if you've got a Guinness lover in your party, this spot cannot be missed.
If you are looking for an authentic British pub ambiance with a southern spin, the menu featuring both British Gamecock and Shrimp Philly won't disappoint. Bumstead's takes its mainstay seriously with more than 150 beers available, making it one of the largest beer lists in Myrtle Beach. Enjoy your beach vacation by spending the afternoon on the outdoor patio or catching up on the latest soccer and football games on big-screen televisions posted around the bar.
Tin Roof
Photo Credit:
Rawpixel via Google Images CCL


Address:

1410 N Ocean Boulevard, Myrtle Beach, SC



Try This Menu Favorite:

Strawberry Beach Blast



Website:

tinroofmyrtlebeach.com



This is one of the top places to party along the Atlantic. The Tin Roof boasts a beautiful view over the Atlantic and the legendary SkyWheel. You can drink the night away while you listen to live music. If your perfect day includes catching the game, The Roof has got you covered with game day food and drink specials.
The rooftop patio hosts regular live music and leveled-up bar fare, including the best wings and tenders on the Grand Strand, according to the local crowd! The Tin Roof offers a weekend brunch and delivery.
8th Ave Tiki Bar & Grill
Photo Credit: 8th Ave Tiki Bar & Grill


Address:

708 N Ocean Boulevard, Myrtle Beach, SC



Try This Menu Favorite:

Freaky Tiki Mai Tai



Website:

8thavetikibar.net



Tucked squarely in the middle of the action on the historic downtown Myrtle Beach Boardwalk, the 8th Ave Tiki Bar specializes in frozen cocktails, craft beers, healthy Mediterranean dishes, creative burgers, and hand-tossed pizzas.
Picture yourself settling into a comfortable spot, sipping away on a handcrafted cocktail as the refreshing sea breeze dances through the open-air setup. This laid-back bar has an outdoor deck and a tiki-covered well worth stopping at for your Instagram feed.
8th Ave Tiki Bar has more than 20 craft beers on tap, a full bar with beach-inspired cocktails and mouth-watering burgers and pizzas that are as comforting as they are delicious.
Bummz Beach Cafe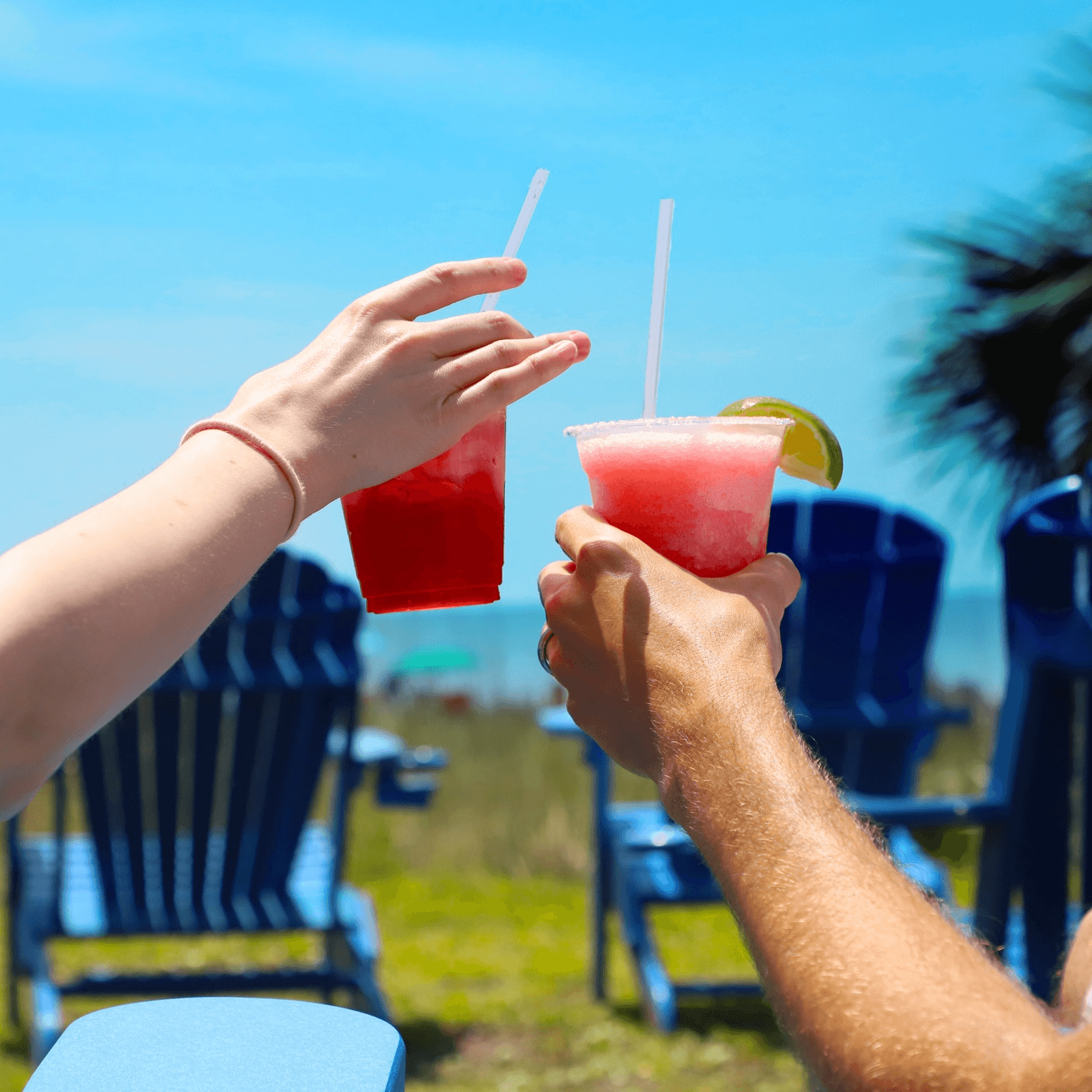 Photo Credit: Bummz Beach Cafe


Address:

2002 N Ocean Blvd, Myrtle Beach, SC



Try This Menu Favorite:

Bummz Beach Relief



Website:

bummzcafe.com



Picture oversized Adirondack chairs on the sand, a grassy outdoor patio area, and string lights twinkling in the dark night. Add to that the allure of oceanfront dining and the waves crashing behind you; believe it or not, this place is real!
Bummz Beach Cafe knows how to shake up the good stuff and teleport you straight to vacation mode. When an ice-cold Corona with lime just won't cut it, they're serving up Red Bull Tropical Tequilas, Strawberry Daiquiris, and refreshing Orange Crush mixed drinks!
Swing by for happy hour from 4 to 6 p.m. and pair your drink with beachy tacos, a mahi sandwich, or some fresh clam chowder. Bummz Beach Cafe has that irresistible beachy vibe that's like a magnet for good times. That laid-back atmosphere makes you feel like you're hanging out with old friends – even if you just walked in.
Landshark Bar & Grill
Photo Credit: Margaritaville


Address:

1110 N Ocean Boulevard, Myrtle Beach, SC



Try This Menu Favorite:

Coconut Sandbar



When the sun sets over Myrtle Beach, the energy doesn't fade – it just shifts gears. And right in the heart of this excitement lies Landshark Bar & Grill, a hotspot that defines the city's nightlife-at-the-beach scene.
With its beachfront location right along the Myrtle Beach Boardwalk, it's the perfect place to transition from a day in the sun to an evening of fun. From a massive bar list about a mile long that includes signature margaritas and cocktails to Landshark lagers, there's no shortage of options for every palette.
Before long, you'll have a pina colada in hand as you look out over the relaxing ocean waves from Landshark's outdoor seating. Add to that on-site live music and a brilliant food menu packed with taco nachos, BBQ ribs, and crab cakes, and you won't ever want to leave this beachfront bar in paradise.
The Bowery
Photo Credit:
Candice Bell


Address:

110 9th Ave N, Myrtle Beach, SC



Try This Menu Favorite:

American Lemonade cocktail



Website:

thebowery.com



The Bowery is where you want to be if you're looking for a Southern atmosphere mixed with fantastic shows, live music, and free-flowing drinks!
Locally dubbed the "Eighth Wonder of the World," this bar and restaurant has been mixing up parties since 1944! Just a short walk off the beach, the Bowery hosts their resident band, The Bounty Hunters, nightly!
The party starts with a cold beer and cocktails at 8:30 p.m., but the bar is open from 11:00 a.m. daily. Down a pint, relax to some tunes, and soak up the iconic atmosphere of this world-famous bar that boasts all the Southern hospitality you didn't know you'd been missing.
Landing at the Boathouse
Photo Credit: Boathouse


Address:

201 Fantasy Harbour Blvd, Myrtle Beach, SC 29579



Try This Menu Favorite:

Nellie Light Lager (from the Independent Republic In-House Brewing Company)



Website:

landingmb.com



We're breaking away from the popular Ocean Boulevard to Landing at the Boathouse to our list of must-try bars in the Myrtle Beach area.
This hot spot combines a waterfront brewery and bar with a pub. Hang out in the sandy outdoor beer garden as you soak up the sun along the banks of the Intracoastal Waterway, or enjoy a drink inside, where you'll find the latest sports matchups on live view.
If you're looking for a place with great music, this is where you want to be! Anchor at the docks nearby, grab a seat on the grassy hill, or take a seat in front of the stage with a cold one as you take in the local tunes.
The Landing House hosts some great activities, including happy hours and trivia nights. These activities change based on the day of the week so plan your visit accordingly.
Riptydz Oceanfront Grille & Rooftop Bar
Photo Credit: RipTydz


Address:

1210 N Ocean Blvd, Myrtle Beach, SC



Try This Menu Favorite:

Bikini Martini



Website:

riptydz.com



Riptydz has it all: a rooftop bar with beach views, outdoor seating, and even an indoor sports bar for the sports enthusiasts.
The drinks here are free-flowing, and they have just about anything you can imagine: elegant espresso martinis, tons of shot concoctions, and cocktails that include mojitos, margaritas, and mixed drinks. Plus, there's a beer list that will satisfy your consistent Miller Light drinker or your friend who likes to pretend they can taste the flavor notes in a new IPA.
Once you pop into Riptydz, you never have to leave. Great food, live music, and the outdoor deck live on all night long as the nightlife heats up in Myrtle Beach.
Enjoying Bar Nightlife on the Grand Strand
Whether you're a cocktail nerd who knows their mixology like the back of their hand, a live music junkie who thrives on tunes, or you're just all about dancing until your feet beg for mercy, these are some of the best bars you'll want to hit up during your time in Myrtle Beach.
Once you've checked into your Myrtle Beach vacation rental at the
Crown Reef Beach Resort & Waterpark
, the world is your oyster! Catch sun rays on the sandy shores, relax in the pool, explore the Boardwalk, and enjoy neverending beach vibes as you create unforgettable stories at some of the best bars along the Atlantic Grand Strand!