7 Most Fun Arcades in Myrtle Beach
Are you planning a trip to Myrtle Beach, South Carolina, staying at one of our fantastic rentals for your next getaway? While
Crown Reef Beach Resort and Waterpark
is renowned for its access to sun, sand, and surf, we all know that Mother Nature can sometimes throw a curveball on an unexpected rainy day. But we have a backup plan for you!
Myrtle Beach is not just about outdoor activities; it boasts some
incredible arcades
that can keep the whole family entertained, from kids and teenagers to adults. In this blog, we'll introduce you to some of the best arcades in the area, perfect for those rainy days or an exciting night out.
1. Game On!
Crown Reef is well-known for its beachfront location and epic waterpark but did you know that it's also home to one of Myrtle Beach's top arcades? Game On! is located in the Town Center Dining, Entertainment and Fun Zone right in the heart of the resort.
Kids and adults alike can enjoy classic and modern games where they can play solo or go head to head with family and friends for some friendly competition. Winners get points added to their game card which can be redeemed for fun prizes at Winner's Circle.
2. Fun Warehouse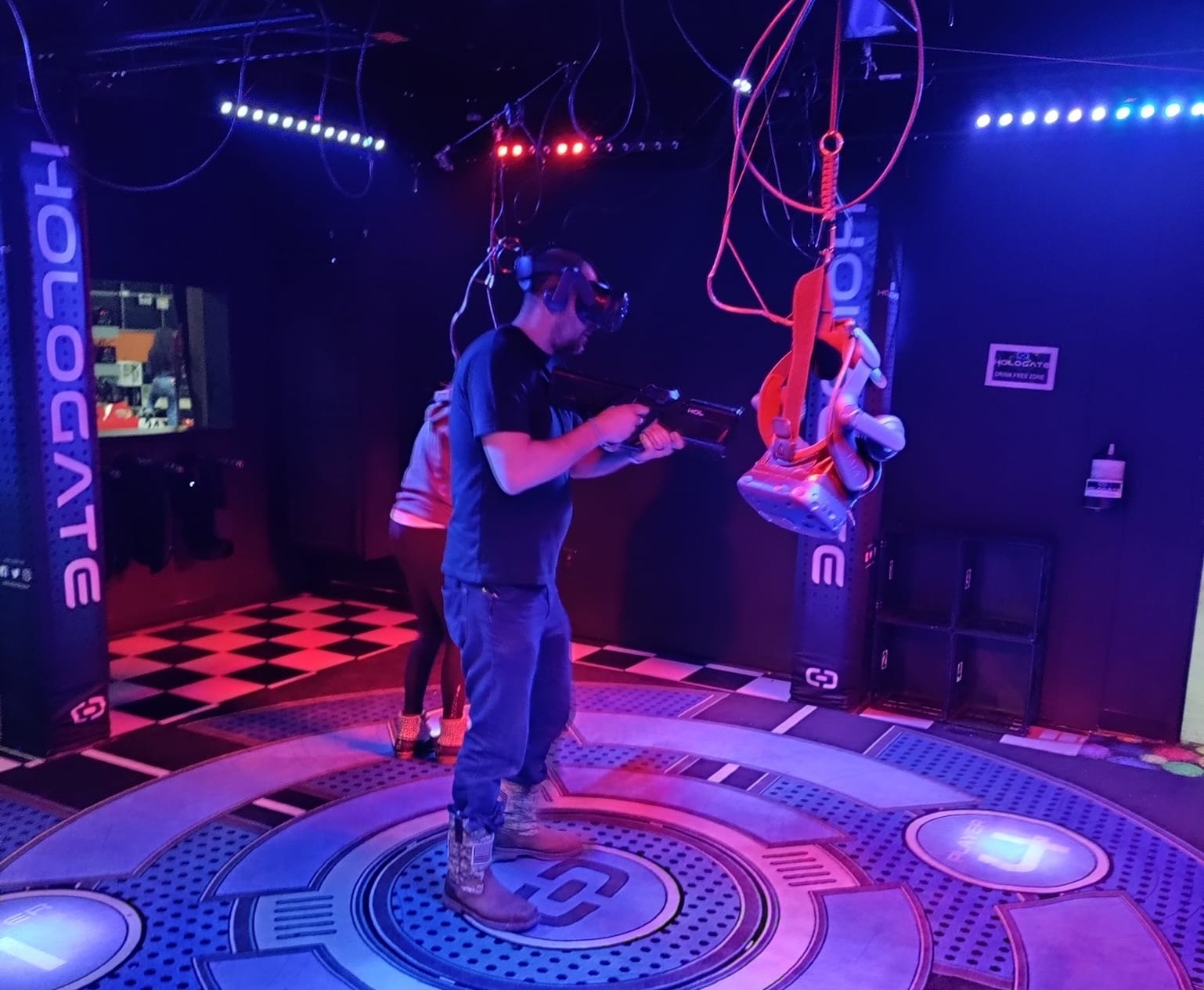 Photo Credit: Jonathan Smith
Fun Warehouse is your one-stop shop for fun on the Grand Strand. No need to be sad if the day is gray and rainy outside because when you walk into Fun Warehouse, you're walking into an absolute explosion of color.
It's especially great for families with little ones because, along with classic arcade games, it has plenty of full-body and active games to get your energy out. You can rotate between laser tag, bouncy inflatables, the Virtual Reality arena, and roller skating all day long! It's the perfect place to spend a rainy day or a thrilling night out with the whole family.
3. Broadway Grand Prix
Photo Credit: Broadway Grand Prix
Broadway Grand Prix is another fantastic destination for family fun. Their 20,000-square-foot arcade features a wide variety of games suitable for all ages. There's plenty to do at this versatile entertainment hub, even when it's raining.
When you're done racking up the high score in the arcade, you can settle into the delicious snack bar or go head to head at bumper cars! Keep your eye on the site for group specials that run seasonally.
4. The Myrtle Beach Pinball Museum
Photo Credit:
eva sharma via Flickr CC2.0
The Myrtle Beach Pinball Museum is a popular destination for pinball enthusiasts and a colorful way to spend a rainy day. Entertaining and educational all at once, it boasts a large collection of pinball machines, and visitors have the opportunity to play as much pinball as they want for an hourly price.
Dive into the past as you rack up high scores on these retro machines from the 70s, and come to appreciate some of the truly creative pinball structures while you have lots of fun!
5. Dave & Busters

Photo Credit: Boris Radovanovic
Dave & Buster's is an unbeatable destination for fun on a rainy day in Myrtle Beach! With a bar, restaurant, and arcade all in one place, it has activities for various ages. After a few intense games, their varied menu will help you refuel and keep going.
Choose from classic arcade games, virtual reality games, billiards, and even a dodgeball ultimate arena. Play games to win tickets and earn prizes! And of course, like any
sports bar
, they have plenty of TVs around if there's a game you don't want to miss. Swing by on Wednesdays if you can--that's when they offer
half-price games
from open until close!
6. Fun Plaza Arcade
Photo Credit: Justin Moseback
Fun Plaza Arcade is a classic arcade experience, perfect for those who want a dose of nostalgia. With a range of traditional games and modern additions, it's an excellent place for family fun. You can start traditional with the old-school Pac-Man and then go futuristic with their driving games and shooter games. You'll be able to appreciate this Myrtle Beach arcade's ocean view!
7. The Track Family Recreation Center
Photo Credit: Kevin Daley
Step into The Track's vibrant signature arcade - Fat Daddy's Arcade - where the fun never ends! Immerse yourself in a world of indoor excitement, filled with a wide variety of arcade games that will leave you hooked and hungry for more.
From the classics that bring back childhood memories to the heart-pounding action of interactive video games, there are many opportunities to win prizes. Their E-claw prize games are stacked with awesome rewards that will make your victory even sweeter. Plus, with the convenience of using the same game card for all rides and arcade games, the fun never has to stop.
The Track also has go-karts, roller skating, laser tag, and inflatables. Get ready to level up your entertainment experience at The Track.
More Indoor Activities at Myrtle Beach
1. Ripley's Aquarium of Myrtle Beach
Ripley's Aquarium is a magical underwater world that beckons both young and old. You'll be entranced by the mesmerizing displays of marine life from around the globe. Get up close and personal with stingrays, jellyfish, and colorful fish in the massive glide path, or be spellbound by the stunning beauty of the Dangerous Reef exhibit.
It's a perfect educational adventure for the family, where you can discover the mysteries of the deep sea while staying dry!
2. WonderWorks Myrtle Beach
WonderWorks has over 40,000 square feet of "edutainment". But of course, one look at its upside-down building design should be enough of a clue that this isn't like any normal arcade.
This indoor amusement park is a gateway to mind-bending experiences and interactive exhibits for all ages. Unleash your inner scientist by exploring the space discovery zone, creating hurricane-force winds in the hurricane shack, or engaging in mind-boggling optical illusions. WonderWorks is an exciting blend of education and fun, with over 100 hands-on exhibits that will keep everyone engaged for hours.
3. Sky Zone Trampoline Park Myrtle Beach
For those looking to burn off energy on a rainy day, Sky Zone Trampoline Park is the perfect solution. This indoor trampoline park offers various activities, from free jump zones and dodgeball courts to a warrior course and foam zone.
It's an ideal option for active families and teenagers looking to bounce, flip, and have a blast even when the weather outside isn't cooperating. They even have Weekend Glow Nights for some extra eye-catching fun.
A Perfect Day Out in Myrtle Beach
In Myrtle Beach, even when the sun isn't shining, the fun doesn't have to stop. These arcades offer a diverse range of games and activities suitable for all ages. Add them to your itinerary when staying at
Crown Reef Beach Resort and Waterpark
!